When you rent a property instead of owning it, it can be difficult to make the place feel like your own without violating the terms of your rental agreement. Fortunately, there are some simple, non-permanent ways to add a little personality and flair to your home without busting your budget. Start by reviewing your contract to see what is and isn't allowed, and ask your landlord's permission on anything that's unclear.
Then, consider these non-permanent ways to freshen your space without frustrating your landlord or going broke.
How to Spruce up Your Rental Home
Review your contract, and consider the following techniques for freshening up your space without frustrating your landlord or going broke.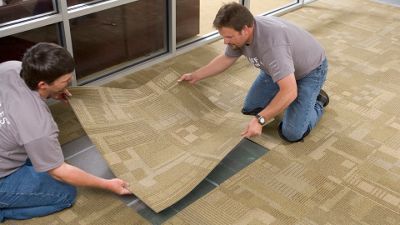 1. Cover Hard Surfaces With Glue-Free Modular Carpeting
Carpet can give a room an entirely new look. However, it requires a lot of effort to install, and may not be permitted by the property's owner.
Glue-free modular carpeting, or carpet tiles, may be a viable option to consider, particularly if you want to experiment with covering some portions of a hardwood area to add visual appeal. This is a great way to get the look and feel of carpet without the commitment or cost of a wall-to-wall installation.
Some companies manufacture adhesive tabs that are placed under each corner of the individual carpet tiles to hold them in place temporarily. That level of flexibility is useful once your rental agreement ends, or if you're having trouble settling on a carpet design that you want to commit to long-term. You can buy carpet tiles from a hardware store or purchase them online. Prices vary depending on how many you need, but some sets cover about 72 square feet at an approximate cost of $150.
2. Get Permission to Paint the Walls
Paint is one of the most effective ways to transform the look and feel of a space, and you can often complete a painting project over a single weekend. Make sure to get the green light from the landlord before getting started. When requesting permission, point out that a fresh coat of paint could reduce the work that has to be done if you decide to move, as many landlords already plan to paint the walls between tenants.
A gallon of paint costs about $30 and covers approximately 350 square feet. Brushes and rollers won't set you back much more than about $10, even if you get a package that includes several sizes.
If you're running short on time, consider getting a blend that includes paint and primer in one. That allows you to skip a step and save some money, but doesn't make it look as if you took a shortcut. The results are long-lasting too.
Repainting a part of a rental property is something that can easily be done on your own, but it's much more fun in the company of others. Consider hosting a painting party and encouraging friends to pitch in.
3. Focus on Removable Details
Drawer pulls, cabinet knobs, and light switch covers are all examples of small but impactful details that give you the freedom to show off your personal style without making permanent changes. Just unscrew what's there and replace it with another choice that's more to your liking. You can also do the same with certain bathroom fixtures, such as towel rails and toilet seat covers.
Drawer pulls and cabinet knobs generally cost less than $5 each, and some home improvement stores sell sets of six or more knobs, allowing you to use the same knobs around the whole house – and save money. Light switch covers cost about the same as drawer pulls and knobs. Toilet seat covers and towel rails are a little more expensive, but often cost less than $20 per item.
4. Use Floor Lamps to Brighten an Area
If your home has dim or shadowy areas, floor lamps can add instant illumination without the need for permanent light fixtures.Consider getting a lamp with a multi-head design featuring moveable parts, which allow you to adjust the path of the light. You may also want to acquire a lamp with a dimmer switch to adjust the brightness according to your needs.
Depending on the type of lamp you want, it's likely to cost about $50 to $200. You may find cheaper options during certain times of the year – for example, in late summer when college is starting. You can also search for garage sales to find great deals.
5. Invest in Portable, Standalone Storage
While you may not be able to knock down a wall to create more space in your rental home, you can always add floor shelving, wardrobes, hooks, and storage cubbies. There are countless creative possibilities to suit every need and style, available from mass merchandisers at budget-friendly prices. Some of the most reasonably priced options only cost about $15, and many come assembled or can be easily assembled without tools.
If your floor space is limited, purchase a shelving unit or storage device that's narrow but tall, so you can make the most of your vertical space. Also, if your landlord is resistant to letting you paint the walls of the room where the shelf will be placed, buy an unfinished piece and coat it in your desired hue to add a pop of color.
Final Word
Updating your rental property doesn't have to cost a lot of money or put you on bad terms with property management. Get other members of your household enthused about what you're trying to do, and any home improvement project can turn into a fun family activity.
Can you think of any other simple and cost effective ways to enhance the appearance of your rental property?
If you want to learn more about property investment, click the following link: PropertySeminar.com.my
How to use creative strategy to own a property in Malaysia? Click the following link to learn more: PropertyMillionaireIntensive.com